Friday, August 13
Supposed to hike to Rosebud Lake, but no one's legs would work. Donna took Grandpa to the doctor. Washed clothes, Bev and Bob in charge. Bev abandoned Bob, who had to deal with some old lady who thought he needed help. 10 washers and as many dryers.
Donna, Bob, KK, and Mike picked raspberries along the irrigation ditch (a whole quart!) Bev and the kids went to the festival.
Played cards with Grandma until 12:30. Grandma and KK vs. Donna and Bob. Grandma wanted us to stay for breakfast, and called Donna a "big mouth" when Donna and Bob were winning. Later, when she and KK were ahead she said "I guess that will teach them to suck eggs!" or something like that. Bev sat on the couch and kibitzed with Grandma. Had a wonderful time. Grandma was so happy. I'm sure her jaws were tired the next day, as she talked a blue streak the entire night. Grandpa was in bed, still not feeling well.
Saturday, August 14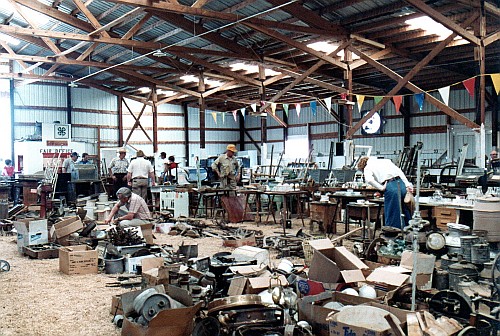 We auctioned all day. Bev tried for marbles and popcorn machine, but felt $18 was too much for marbles. Met Jeannie and Scott at the auction. Jeannie took Donna to Irene's for a short visit. Bob got a crock and a cracked crock, and Donna won a fire hydrant for KK. Uncle Vernon bought $78 worth of junk and was quite pleased. There was so much weight in the rear of the car that it looked like a rocket, poised for takeoff. We carted everything home in shifts.
Fixed Uncle Vernon a real meal, pork chops, fresh peas, corn on the cob, salad and hot rolls. Nita and Darrell came up. Went to town for big night. Bob and Donna returned home at 11:00. The rest at 1:30.